Emergency Housing Assistance in Erie County During the Holidays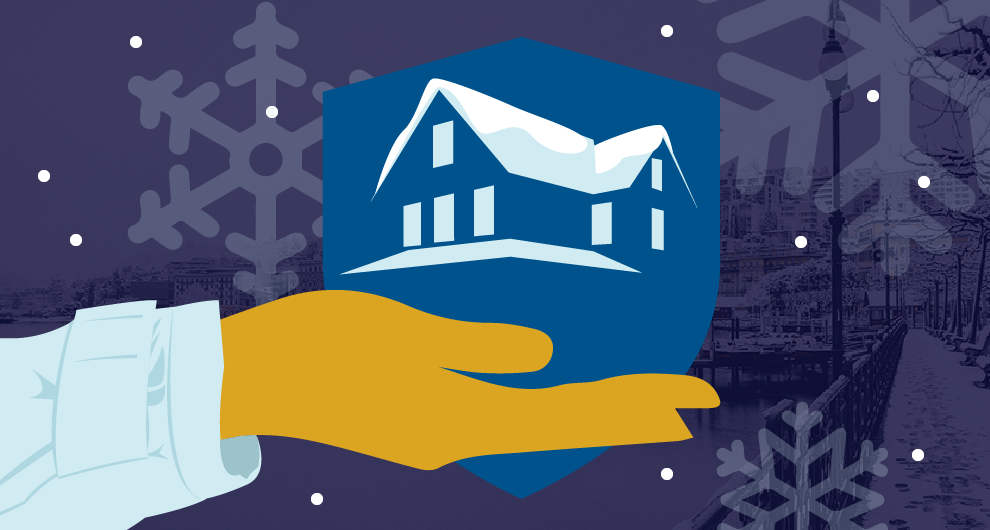 As temperatures drop and financial or domestic situations become dire, the need for emergency housing assistance is always elevated during the winter months. Unfortunately, the COVID-19 pandemic has added an additional layer of challenge to an already challenging situation, putting more at risk of experiencing homelessness. After months of declining unemployment rates, joblessness is on the upswing again as new restrictions are imposed to mitigate viral spread. For those suffering from mental health issues during this crisis, it may seem impossible to cope, triggering a relapse into bad habits such as drug or alcohol abuse.
The most recent Single Point in Time report (an accounting of the total sheltered and unsheltered homeless population on a given night) in Erie County was published last January — before the world changed in turn with the pandemic — recorded a total homeless population of 1,004 (996 sheltered, 8 unsheltered). Unless we marshal together every dollar of our available federal, state, and local resources, that number could be much larger come next month.
Preventing homelessness through housing security
The best preventative to homelessness — and checking the spread of COVID-19 — is housing security. Congregate settings, such as may be present in an emergency homeless shelter or in a tightly-packed encampment, create an ideal environment for viral transmission. The best way to avoid overcrowding under one roof is to keep individuals under their current roofs, where they can easily self-isolate if need be.
The Centers for Disease Control and the federal Department of Health and Human Services agree, which is why they have extended their eviction moratorium order through the end of December. While this order is in effect, landlords or property owners cannot evict tenants on the basis of temporary inability to pay their rent or lease. To receive the protection, tenants must present an executed copy of a Renter's or Homeowner's Declaration form to the owner of their place of residence, or anyone who might otherwise have cause to evict.
Note, however, that the eviction moratorium does not excuse renters from paying what they may owe, or complying with the terms of their rental or lease agreement. If you fear you may be unable to come through with the necessary payments, it may be wise to apply for emergency housing assistance.
Pennsylvania housing assistance programs
Pennsylvania's housing assistance programs are designed to provide a Continuum of Care, helping to not only prevent homelessness, but address the mental health conditions and other adaptive concerns that play into it. Eligibility depends on federally established poverty guidelines. They fall into the following categories.
Case Management
During the case management process, you work with a case manager to get to the root causes of your predicament, connect to meaningful and impactful programs and resources, and develop skills and tools to keep you out of homelessness for the long haul. Case management is ECCM's specialty.
Rental Assistance
Need help with your living expenses? This housing assistance program works to either a) minimize the chances of being evicted from your current home or apartment, b) move you into a more affordable housing situation, or c) get you out of shelter and into a more permanent housing situation.
Bridge Housing
As the name suggests, this program is intended to be the bridge from emergency shelter to shared facility (for up to 18 months), and from shared facility to your own home or apartment. Case management services along the way help ensure that once you cross the bridge, you will never have to go back. ECCM provides a similar program through Shelter Plus Care
Emergency Shelters
Emergency homeless shelters provide short-term, temporary assistance to those without a place to stay. Case managers may assist with securing a more stable housing situation.
ESA
Pennsylvania's
Emergency Shelter Allowance
program grants up to $300 in emergency housing assistance toward permanent living quarters for those who are currently experiencing homelessness, up to $400 to prevent eviction/foreclosures, and up to $100 in temporary shelter funds for those whose homes have become uninhabitable either structurally or due to domestic abuse. Individuals or families are only eligible for one 30-day emergency shelter allowance per year.
Innovative Supportive Housing Service
An Innovative Supportive Housing Service is one custom-tailored to the unique needs of people currently or near experiencing homelessness in their provider's service area (in this case Erie County).
Stay safe, stay sheltered with ECCM
The year 2020 has not been easy on anyone, much less those suffering from unstable housing situations or compromised mental health. Our aim is to help prevent overcrowding in Erie County's emergency homeless shelters this winter by pursuing lasting solutions for individuals and families.