Guide to LTSS: Personal Care Assistance through Medicaid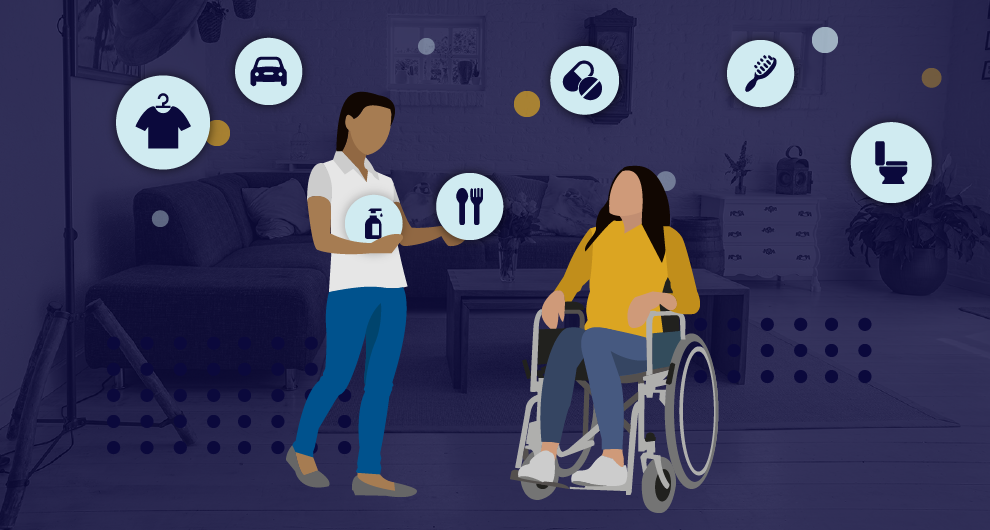 Long term services and supports (LTSS) programs are based on the notion that every individual — regardless of mental or physical capacity — should be given the opportunity to enjoy the greatest degree of independence possible. LTSS offer personal care assistance with a broad range of daily activities, predominantly in-home or in community settings, and are financed primarily through Medicaid, the nation's publicly-funded health insurance program (the cost of LTSS often exceeds most individuals' ability to pay).
As of 2018, 14 million adults nationwide were in need of LTSS, and over 40 percent of those (5.6 million) were under the age of 65 but living with a physical, cognitive, developmental, and/or chronic health condition. The elderly population is the biggest beneficiary of LTSS, and will continue to grow as life expectancies increase over time.
What activities do LTSS assist with?
Long term services and supports assist with many of adaptive, day-to-day activities that most people take for granted — things that allow a person to live independently and/or within a community. These personal care activities include:
Eating

Bathing

Taking/managing medications

Grooming

Walking

Sitting down and standing up

Toileting

Cooking

Driving

Getting dressed
Who provides LTSS?
By and large, it is most often unpaid caregivers — friends and relatives — who render LTSS in the home. When level of care (LOC) requirements supersede the ability of unpaid caregivers to manage, the responsibility may shift to paid direct care workers, medical professionals or para-professionals such as physicians, nurses, nurse aides, and/or personal attendants. It is the goal of LTSS to keep individuals out of institutionalized settings and allow them to live and work within their homes and communities by every means possible — whether that includes assisting with transportation, supported employment, adult daycare, home health aide services, or personal care assistance.
Care management such as that provided by ECCM helps families locate the best balance of LTSS for their loved ones.
LTSS eligibility requirements
The eligibility requirements for LTSS differ from state to state, with various ins or pathways to qualify. At the foundation of all of these, though, are a set of financial and functional criteria one cannot exceed.
Financial criteria
From a financial standpoint, qualifying for Medicaid in many cases implies qualifying for LTSS. Medicaid eligibility is determined by Modified Adjusted Gross Income (MAGI) — defined by HealthCare.gov as "adjusted gross income plus ... untaxed foreign income, non-taxable Social Security benefits, and tax-exempt interest." In Pennsylvania, if your household's MAGI is at or below 133% of the established federal poverty level, you are eligible for Medicaid.
There are instances, however, where a "medically needy" household member or other circumstance can bump up those thresholds beyond 133% of the FPL — some eligibility groups do not have an income requirement at all.
Functional criteria
Even more important than finances in determining LTSS eligibility are one's LOC requirements. States utilize functional assessment tools — questionnaires designed to collect key information about an applicant's overall health status and functional ability — to determine whether that individual's LOC needs exceed their capacity.
Community HealthChoices
In Pennsylvania, LTSS are coordinated through the Community HealthChoices program. Individuals qualify if they meet one of the following conditions:
Dually eligible for Medicare and Medicaid

Eligible for Medicaid and have LOC requirements consistent with those provided by a nursing facility.
See if you qualify for LTSS with ECCM
If that seems like a lot to process, rest assured — ECCM's mission is to be your guide into and through Erie County's mental healthcare system. Let us help you discover a level of autonomy you may have never imagined for yourself or a loved one today by getting in touch.