Northwestern Pennsylvania Service Coordination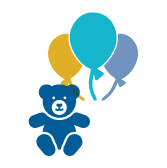 Erie County Care Management (ECCM) provides service coordination services for children from birth to three years of age with specific needs that may delay their development.
ECCM is committed to helping you and your child, listening to your concerns, and answering any questions you may have. Our service coordinators partner with families first. You guide the early intervention service for your child. There is no cost to you.
What is Early Intervention?
Early Intervention is a family-centered program which is based on the belief that the most significant time for identification and treatment of children with developmental or intellectual disabilities and delays is during the earliest possible stages of development.
What do Service Coordinators do?
Service coordinators help meet the child's needs by coordinating and monitoring early intervention services, assisting in any issues that may arise, and by providing information and resources to help the child succeed.


Service coordinator responsibilities:

Connect your child with a multi-disciplinary evaluation to determine if your child is eligible for services.
Can enroll your child into our "Tracking Program," to ensure your child remains on target developmentally.
Meet with you and determine which early intervention therapy would best help your child.
Answer your questions about your child's needs.
Early Intervention Eligibility
Eligibility for early intervention is determined either through a qualifying diagnosis or through multi-disciplinary evaluation during which there is 25% delay or more in at least one of the following five areas: cognitive, communication, social/emotional, physical, or adaptive.
Early Intervention FAQs
Yes! ECCM's service coordinators are well-versed in resources within your community. Additionally, our Early Intervention program is located right here at ECCM, which is a resource in supportive services such as mental health, intellectual disability, representative payee, intellectual disability, Health Choices Hi-Fidelity Wrap Around and Administrative Case Management. We will get you the answers and get you connected, even if it's not for your little one!