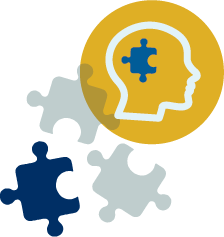 ECCM is the only organization in Erie County that performs the intake function for Autism Spectrum Disorders, which includes eligibility determination and Autism supports coordinator assignment.
The Autism Division at ECCM provides Supports Coordination service to help individuals with autism realize their dreams of independence throughout all stages of their lives. ECCM works closely with state and local government agencies as well as direct autism service providers as the "center of the system".

Following the "Everyday Lives" approach, our autism supports coordinators will help individuals navigate their way through a system designed to meet their needs in a community setting, often in their own homes. Supports coordinators will work with individuals and families to identify desired life goals and work to find community and paid supports to achieve these outcomes.
What is Autism Supports Coordination?
Development and maintenance of an Individual Support Plan (ISP).
Identifying needed services and locating qualified providers.
Locating and coordinating funding for needed services.
Monitoring services to ensure delivery and progress toward goals.
Ensuring health and safety.
Placing individuals on the needs list for waiver funding.

Eligibility and Intake for Autism Supports Coordination
As per ODP Guidelines:

Eligibility for intellectual disability services requires a diagnosis of Autism Spectrum Disorder (ASD) based on the results of objective standardized testing, at least three deficits in the major areas of life activity, a medical evaluation documenting the appropriate level of care, and evidence that the diagnosis of ASD occurred prior to the individuals 22nd birthday.

As the "center of the system", ECCM's intake department will initially meet with all individuals seeking services from the Autism Division to begin the process of deciphering and navigating these guidelines and bettering their lives. Referrals can come from a number of sources, including the individual or their family. At the point of initial contact, our staff will explain the process, collect demographic data, and may request other documentation such as birth certificates and social security cards.

After the initial meeting, follow up activities include review and documentation of the individual's educational, medical, social and psychiatric histories as well as a general review of the individual's current support and service needs. If necessary, intake staff will direct an individual where they can obtain the required diagnosis assessment and medical evaluation. A functional assessment may also be completed by ECCM intake staff.
Autism Supports Coordination FAQs
Your child may be eligible for this service if he/she has had a diagnosis of Autism Spectrum Disorder (ASD) based on the results of:
Objective standardized testing
At least three deficits in significant areas of life activity
A medical evaluation documenting the appropriate level of care
Evidence that the diagnosis of ASD occurred before the individual's 22nd birthday